Horseriding in the Loch Ness valley
Loch Ness Riding (fully approved by the British Horse Society and the Horses Welcome scheme and licenced by the Highland Council) takes experienced riders for hacks and lessons, either privately or in small groups.
Due to staffing problems, we have had to make big changes to our operation at Loch Ness Riding. We are cutting back on the number of horses that we keep and will only be able to take bookings from more serious riders who have had a minimum of 5 years regular riding experience in the English/classical style.
Our horses are very well schooled; they are not problem horses or "tourist" horses, so we only want to put the better riders on them.
If you have only ridden your own horse for many years, you may want to think about whether you will be happy riding a strange horse as this can cause problems with confidence.
If you do make a booking I will need you to fill in and return a rider reg form – one for each rider.
We shall be maintaining a strict weight limit of 12 1/2 st; 82 kg or 175 lbs. You will be asked to stand on the scales.
Chief instructor Candy Cameron is a BHS Stage 4 Coach in Complete Horsmanship in both eventing and Dressage plus the Stage 5 Performance Care Manager. We a BHS exam centre - currently almost the only centre in Scotland that is holding BHS Stage 4 assessments as well as lower stages.
For hacking riders should be competent and balanced at all paces on forward going horses over hilly and varied terrain – English/classical style - no jumping required! We do not take western or gaited style riders as the two systems of riding are not compatible.
No children under 14.
We take hacks of 2 and 3 hrs. Riding holiday packages are available - see our page "Riding Prices". If you have any special requirements you can get in touch and we will try to accommodate you.
If you want to book for a dressage or jump session you will first need to book a private assessment lesson and following that you can book in for eitherca group lesson or further private sessions.We train riders for BHS exams from Stage 1 ot Stage 4 both riding and stable management and we can offer Zoom sessions for all theory work.
We offer qualified instruction in dressage, jumping, stable management and training horses. Endurance riding is a speciality. Qualified instruction can be given on your horse or ours. Dressage competitions are held at the centre.
Our horses are PRE, Sports Horses, Arab and cob.
We have an indoor school and outdoor arena plus some XC fences. We offer spectacular off road hacking and are located on the 50 mile loop Trail of the 7 Lochs. We are more than happy to make provision for you to take photos on your ride but we do not allow the use of Go-Pros or similar.
We are 10 miles SW of Inverness which takes about 15 - 20 mins by car. We are based near Dores on the east side of Loch Ness at the north end of the Great Glen.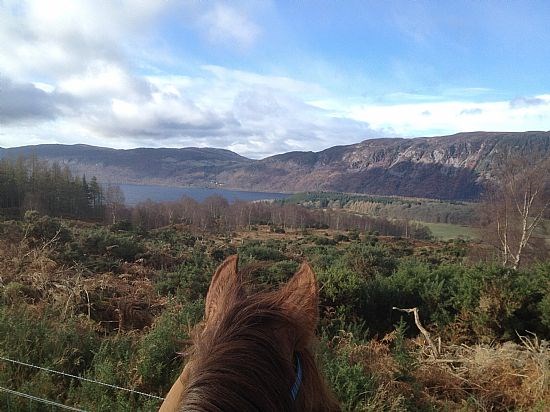 Directions
To find us from Inverness, take the B862 from Inverness to Dores then bear left uphill in the village (still on the B862). Go up the hill for about 1 ½ miles then turn right just past a steading conversion on your right – signed to Loch Ness Log Cabins and Drummond Farm. Loch Ness Riding is the first property along that road on your right (just after the wind turbine and big shed). The stables are beside our house.